Welcome to your 6-Hour FREE TRIAL
Try out our Yoga Teacher Training for 1 week!
If you've made it this far, it means that you are really passionate about Yoga. 
You probably felt this inner spark guiding you to take your passion to the next level.
From our own experience, we know that this is a BIG step.  
In these unusual times, there are so MANY Yoga schools out there and anyone can offer an Online Course. It can be quite a task to find teachers that you can really trust. 
Teachers that have the knowledge, passion & experience to guide you to:
Deepen your practice.
Become a confident Certified Yoga Teacher.
Find your voice as a Yoga Teacher.
Let go of old patterns and rise into a higher version of yourself.
CHOOSE THE BEST
How will you choose the right Yoga school before you commit your money and your valuable time?
We can confidently say that our Teacher Training is one of the best out there. It's packed with so much value! 
We've been successfully leading Yoga Teacher Training for over a decade and our consistent 5-star review ratings & sincere testimonials speak for themselves.
As we truly believe that a loving, safe space is an essential ingredient for profound transformation, we are offering you the first 6 hours of our Teacher Training for FREE.
For you to see if we are really the right fit for you.
Enjoy over 6 hours of breath-taking, high-quality content and experience the essence of our 200-Hour Online Yoga Teacher Training.
Don't just take our word for it, try it out for 1 week for yourself.
Completely risk-free:  no credit card needed, no catches – only love.
Not just Another Freebie!
We know it's tempting to quickly skim through free courses, but we urge you to really take time for this one, as there is so much goodness inside. 
Commit for a few days and you will get a taste of the amazing transformation waiting for you, on the other side of Akasha's Online Yoga Teacher Training.
When you finish this free 6-Hour Course you will have a concrete practice and understanding of the following subjects:
Get started with your life-changing journey now!
"You will learn so much more than just Yoga. It is a fun, challenging and life-changing experience. I truly wish that EVERY person could experience this deep dive of self-discovery." 
Chandise Dasher – United States
1

WELCOME to your FREE TRIAL!

Intro to 200-Hour Online Yoga TTC – Akasha Yoga Academy

2

1.1 Breath-Based Hatha Yoga Practice (90 Min)

1.3 Welcome & Practicalities

1.4 Talk on Benefits of Yoga

1.6 Talk on Principles of Practice

3

Get To Know Your Teachers

Congrats! Here's what's next...
We hope that this course sparked your curiosity and passion for yoga even more and we can't wait to share more with you.
If you enjoyed this course, know that it gets even better after this. If you sign up you get to join our daily live sessions to meet in real-time, and create meaningful friendships with your teachers, and with our uplifting student community. You will learn from our personalized supervision of practicum assignments, and develop your teaching skills in a fully supportive & truly interactive journey. You will also receive our in depth 700 page Teacher's Manuals to keep on studying & evolving after the course. Apply now to become a Yoga Alliance 200-Hour Certified Yoga Teacher and share the gift of Yoga with your community.
THE TEAM
 In our heart-centered team we cultivate a genuine family connection, and we can't wait to share our love for Yoga & Life with you. We personally guide you through authentic & eye-opening programs, and we are here to support you on all levels.
 
Our life-changing courses transmit theory & practice of classical Yoga & meditation, delivered by knowledgeable & passionate senior teachers in a safe & nurturing learning environment.
Head Teacher
Burkhard Langemann
Burkhard is a Yoga Alliance certified and Experienced Registered Yoga Teacher at the highest level (IYF & E-RYT-500). In addition to thousands of hours of retreats & workshops, he completed over 1300 Hours of Yoga Teacher Trainings. Since 2008, Burkhard has been sharing his vast experience in a variety of contexts, including Yoga Teacher Trainings, meditation retreats, workshops & life-coaching sessions. He has been teaching in various locations across Asia, Europe & America. Together with his dear friend Kirsten, he founded in 2011 the Akasha Yoga Academy.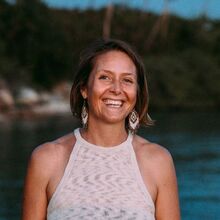 Head Teacher
Kirsten Berry
Kirsten teaches classical Hatha Yoga asana & pranayama, Yin Yoga & meditation. She is certified by the Yoga Alliance as an Experienced Registered Yoga Teacher at the highest level (E-RYT-500). Since 2008, she has been presenting drop-in asana classes, workshops & meditation retreats, as well as a variety of 200-Hour & 500-Hour Yoga Teacher Trainings. On her way, she supported her teachers to setup & run Yoga centers in Mexico & Thailand, before she co-founded the Akasha Yoga Academy with her dear friend Burkhard in 2011.
Senior Teacher
Devdas Sahaja
Devdas is a Registered Yoga Teacher (RYT-500), who is trained to teach meditation, pranayama & Hatha Yoga. Before joining the Akasha Yoga Academy team, he taught Yoga for twelve years in several major cities of India. He helped set up & run several Yoga & meditation centers, and has been sharing the joy of selfless service Seva & Kirtan chanting all around the globe.
Still deciding whether a Yoga Teacher Training is right for you? We know it's a big commitment and we are happy to help you answer any logistical or emotional questions that you might still have.
Let's stay in touch
We are brewing some awesome Online offerings in our Bali Studio with YOU in mind. Fill in your email to be the first to know.