Breath-Based Practice at it's Best
Sign up for this life-changing program today.
Experienced Registered Yoga Teachers at the highest level (E-RYT-500)

A decade of teaching more than 900 certified Yoga instructors worldwide, who are now teaching on all 6 continents

Consistent 5-star review ratings & heart-felt testimonials
Watch this video
Get a feel for this program
Curriculum 80 Hours Hatha & Pranayama

Essential Info to Get Started

Get to Know Your Teachers

Course Program / Schedule

1.1 Practice Slow Flow – Kirsten

1.2 Practice Pranayama – Devdas

1.3 Yoga is Intimacy with Life – Devdas

1.4 Principles of Breath-Based Asana Practice – Kirsten

1.5 Asana Essentials – Burkhard

1.6 Principles of Vinyasa Yoga – Marc

1.7 Lineages in Modern Hatha Yoga – Burkhard

1.8 Practice Vinyasa – Kirsten

1.9 Practice Pranayama – Devdas

1.10 Practice Meditation – Burkhard
About this course
Free

16 lessons

9.5 hours of video content
Head Teacher

Burkhard Langemann
Burkhard is a Yoga Alliance certified and Experienced Registered Yoga Teacher at the highest level (IYF & E-RYT-500). In addition to thousands of hours of retreats & workshops, he completed over 1300 Hours of Yoga Teacher Trainings. Since 2008, Burkhard has been sharing his vast experience in a variety of contexts, including Yoga Teacher Trainings, meditation retreats, workshops & life-coaching sessions. He has been teaching in various locations across Asia, Europe & America. Together with his dear friend Kirsten, he founded in 2011 the Akasha Yoga Academy.
Email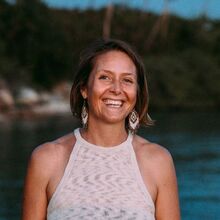 Head Teacher

Kirsten Berry
Kirsten teaches classical Hatha Yoga asana & pranayama, Yin Yoga & meditation. She is certified by the Yoga Alliance as an Experienced Registered Yoga Teacher at the highest level (E-RYT-500). Since 2008, she has been presenting drop-in asana classes, workshops & meditation retreats, as well as a variety of 200-Hour & 500-Hour Yoga Teacher Trainings. On her way, she supported her teachers to setup & run Yoga centers in Mexico & Thailand, before she co-founded the Akasha Yoga Academy with her dear friend Burkhard in 2011.
Email
Senior Teacher

Devdas Sahaja
Devdas is a Registered Yoga Teacher (RYT-500), who is trained to teach meditation, pranayama & Hatha Yoga. Before joining the Akasha Yoga Academy team, he taught Yoga for twelve years in several major cities of India. He helped set up & run several Yoga & meditation centers, and has been sharing the joy of selfless service Seva & Kirtan chanting all around the globe.
Email
JOIN US ON THIS JOURNEY
Sign up for this heart-opening program today
In this 80-Hour Advanced Hatha & Pranayama Teacher Training you will explore the depth of breath-based Yoga.